We offer Acoustic Doors available in Steel
Fully made to measure Acoustic Doors available from only £700.00 incl VAT. High security multipoint locking system, maintenance-free, complete with 10 year guarantee
Online ordering is still under development, please click below to request a FAST quote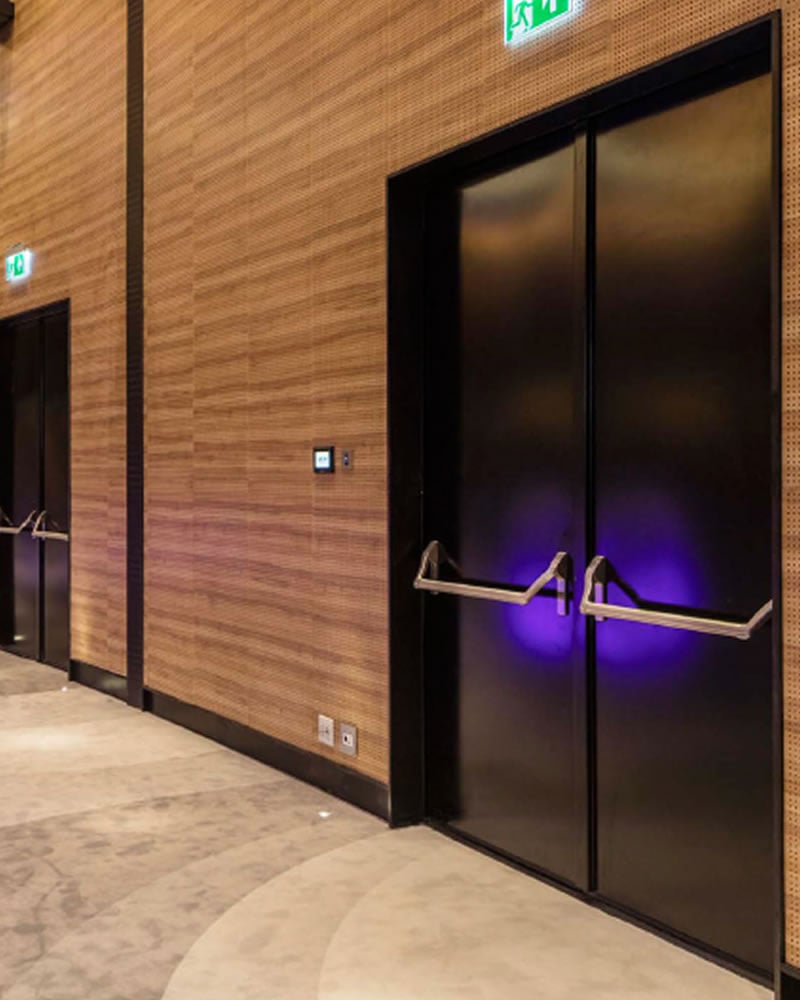 Double Acoustic Doors
Fully Customisable
Noise Reduction
Acoustic Rating Upto 56dB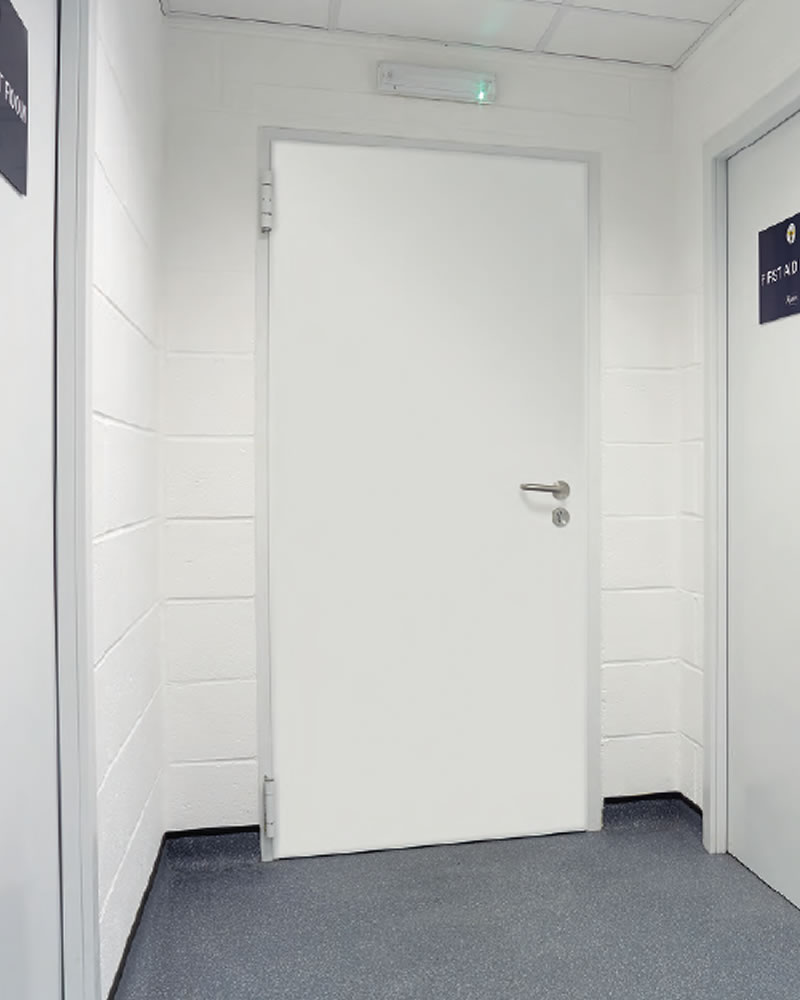 Fire Rated Acustic Doors
Finish – Powder Coated
Made in the UK
Fast Turnaround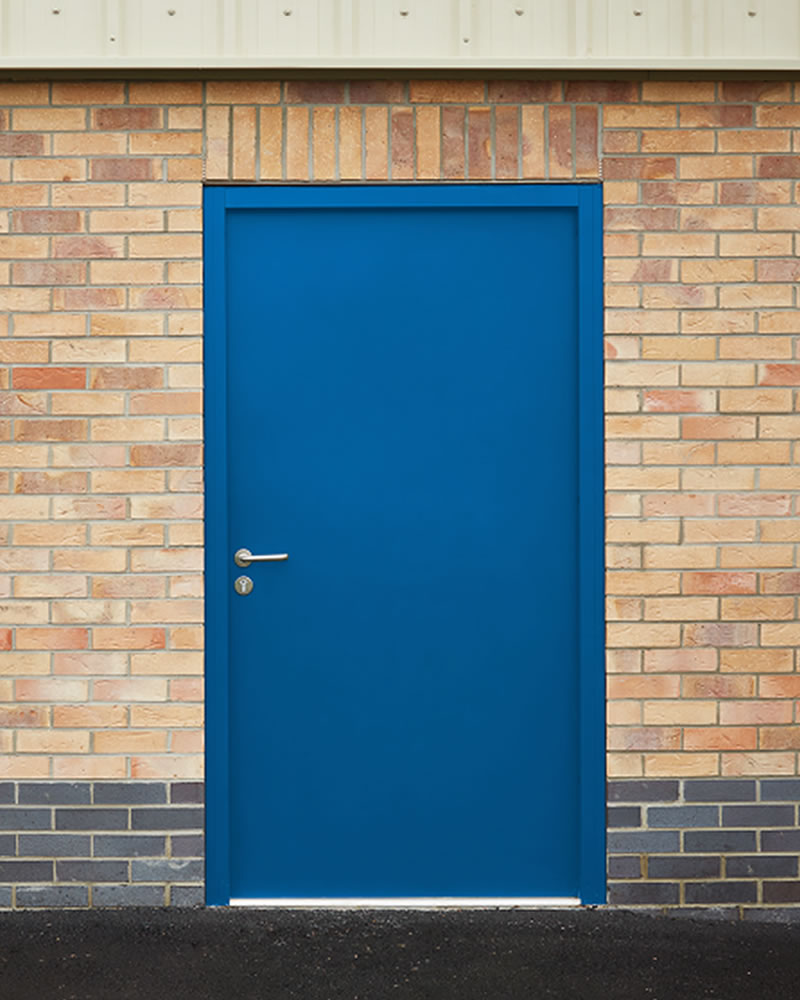 External Acoustic Doors
Leaf Thickness – 75mm to 100mm
High Security
Custom Colours
Enjoy optimum noise control without compromising on quality and style
Acoustic doors are found in a wide range of settings that require the highest standard of noise control and before you purchase an acoustic door, you should always check out the door acoustic rating first.
Made from galvanised steel sheeting and featuring a double-walled door leaf, steel acoustic doors can also be configured to meet your needs.
If you're looking for industrial acoustic company doors, get in touch today!
Types of acoustic doors
There are a whole host of acoustic rated doors that are designed to accommodate a wide range of acoustic requirements, in a diverse range of different settings, including acoustic fire rated doors, acoustic French doors, acoustic glazed doors, residential acoustic doors and industrial acoustic doors. All of these are designed to provide excellent noise control.
Please read on to find out a little more about the different types of acoustic doors we have available and, the various different applications and settings they can be used in:
Acoustic fire rated doors
Acoustic fire doors are an increasingly popular choice for specialist applications in public buildings including leisure facilities, hospitals and education establishments.
Acoustic fire doors are for internal use only and use only and smoke-rated to BS EN 1634-3. Expertly designed to enable internal entry and exit, all acoustic fire rated doors are built to order, individually constructed and come with a choice of hardware, frame, threshold and panel options.
Acoustic french doors
Acoustic French doors offer a secure and stylish noise reduction solution in a wide range of environments including residential settings.
Essentially double doors, acoustic French steel doors are designed for internal and external use to enable entry and exit. Each is built to order and individually constructed with a choice of hardware, frame, threshold and panel options, you will be able to choose French doors that will optimise the functionality and style of your property.
Acoustic glazed doors
Acoustic glazed doors are distinguishable by the two or more sheets of glass that are bonded together with one or more acoustic interlayers.
Inserted into a standard steel door leaf, acoustic steel doors are built with stringent building regulations in mind and are produced in various panel formats, sizes and glazing options.
Residential acoustic doors
Residential acoustic doors are expertly designed to stop sound both getting in or out, making them perfect for home music studios or dealing with noisy neighbours!
In recent years, residential acoustic doors have continued to increase in popularity as more homeowners than ever before demand optimum safety, security and functionality.
Industrial acoustic doors
Industrial acoustic doors provide excellent noise control in extremely loud environments such as industrial buildings, factories, power generation plants, film studios, theatres and more.
Industrial fire doors are also available and can also be used in residential settings too..
You can also purchase acoustic door kits, door acoustic insulation, acoustic door frames, acoustic louvre panels and acoustic door retainers – all of which can accommodate your sound proofing needs.
What are the benefits of steel acoustic doors?
There's a whole host of benefits that come hand in hand with acoustic doors and frames, including:
High level of noise insulation
Optimum privacy
Noise reduction
Accommodate different standards of noise reduction
Can be customised
As trusted acoustic door manufacturers, we help our customers to access steel acoustic doors in London that are suitable for use in noise-sensitive environments, such as recording studios, generator rooms, cinemas, night clubs and churches. You should weigh up all of the benefits of acoustic doors and windows when deciding whether or not they are the best option for you.
Product features of our Acoustic doors
Our acoustic rated steel doors boast the following features:
Fire resistance
Leaf thickness – 75mm to 100mm
Air permeability
Acoustic rating up to 56dB
Hinges – Grade 13 stainless steel ball bearing dog bolt butt hinges
Finish – powder coated
Seales – self adhesive P-Seal as standard – brush seal on the flat threshold
If you're looking for acoustic doors in the UK, you've certainly landed in the right place. Get in touch with a member of our team today to discuss your requirements.
What is an acoustic door rating?
Acoustic doors are doors that are manufactured to keep out excess noise coming from the different areas of your commercial or residential space. Acoustic doors work by offering a barrier and providing a high level of soundproofing between rooms.
Soundproof decibels are a universally recognised way of measuring sound levels, which are designed to work off the sensitivity of the human ear.
What is an acoustic door panel?
Acoustic door panels can be applied to doors in order to facilitate perfect sound absorption for deadening and dampening sound, in a vast range of different environments. They can also improve the sound quality of your existing speakers by reducing the amount of sound waves reflected off the walls.
As long as these acoustic door panels are applied correctly, they can be incredibly effective. Acoustic foam for doors can also be used to absorb soundwaves and help to dampen the strength of the noise being transmitted. They can be easily applied to doors by either using glue, staples or screws.
What thresholds are provided?
Supplied with a threshold of your choice, the thresholds used depend on whether you opt for an interior steel door or an exterior steel door, as well as the required classifications.
Acoustic door cost
Acoustic door prices depend on a number of different factors. For example, the price you will pay depends on the type of acoustic door you choose, whether that's an acoustic steel door, an acoustic fire door, acoustic glass door, acoustic studio doors or acoustic louvre doors.
For further information about our steel acoustic doors or for an acoustic door price list, please do not hesitate to get in touch with a member of our team today.
Why choose our steel acoustic doors?
Our acoustic soundproof doors have been designed and manufactured to the highest standard, allowing you to access acoustic external doors and acoustic internal doors that you can rely on. Acoustic metal doors are also fully customisable and can be designed around your bespoke specifications.
Acoustic doors for home
You can also find acoustic doors for homes too, including acoustic front doors. acoustic glass doors and acoustic double doors. Acoustic door frames are also highly effective in helping to soundproof a range of different environments.
Get in touch today!
If you require further information about our acoustic door options or prices, please get in touch with a member of our team today. We're always on hand to help you find the best options for your property.
We are a supply only business, however do work with trusted installers. You can find out more on our Local Independent Trusted Installers page.
Alternatively, you can contact us on 01435 515001 or email us at sales@justvaluedoors.co.uk
With each and every door we offer: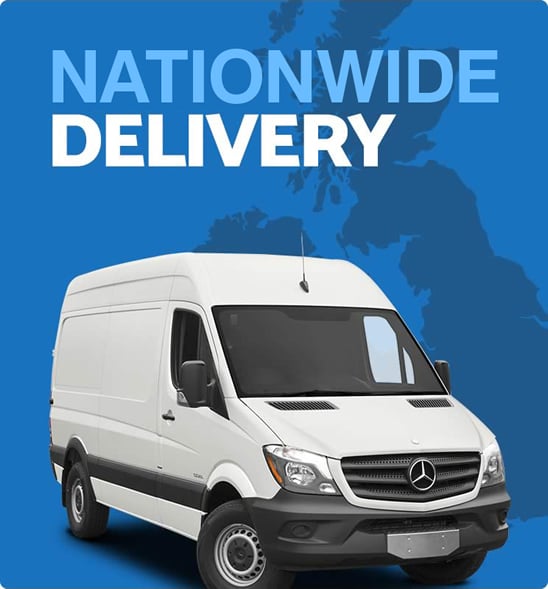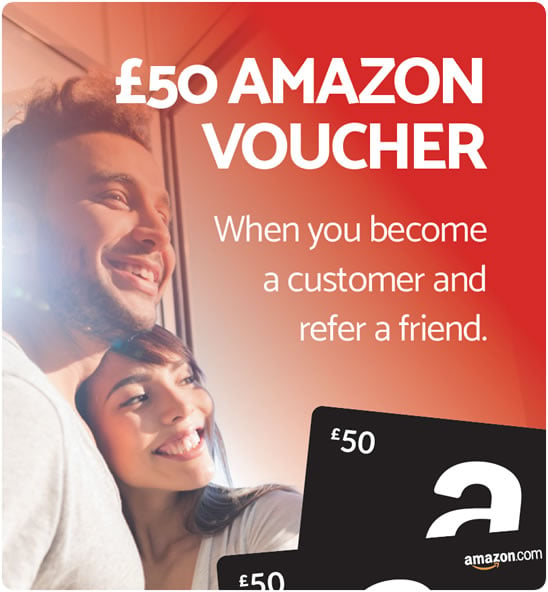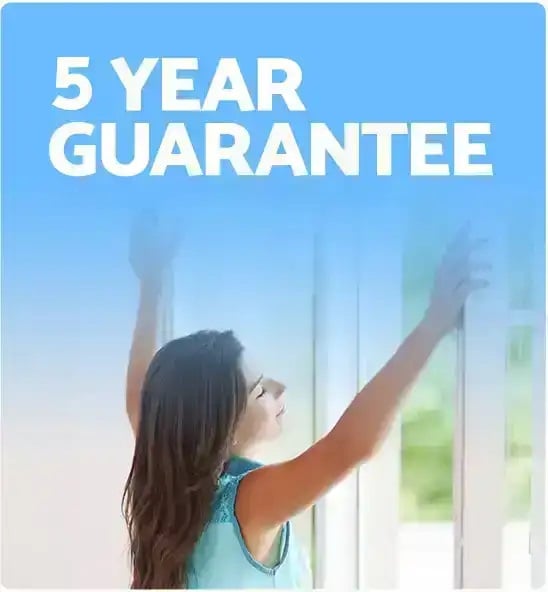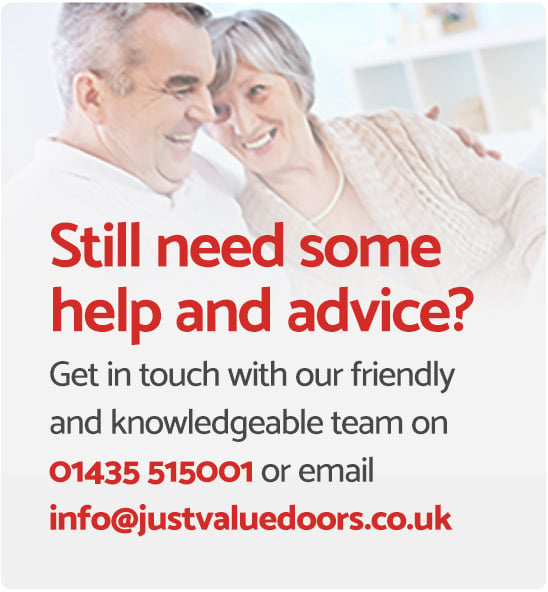 Still have questions?
Below you can find the most common questions answered, but if you still cant find what you looking for - we've put together a dedicated FAQ page where you can search out your answers, and if you still need help simply get in touch with our friendly team.
Quality seems very good.
Bought a composite door side panel windows and 2 separate windows. Great comms product price competitive and quality seems very good.
Superb customer services!
Quality of composite door is good. Superb customer services! was particularly helpful, extremely accomadatimg to my amendments that were my mistake. Would definatly recommend!