We offer Louvre Doors available in both Aluminium & Steel
High quality Louvre Doors available from only £775.00 incl VAT. High security multipoint locking system, maintenance-free, complete with 10 year guarantee
Online ordering is still under development, please click below to request a FAST quote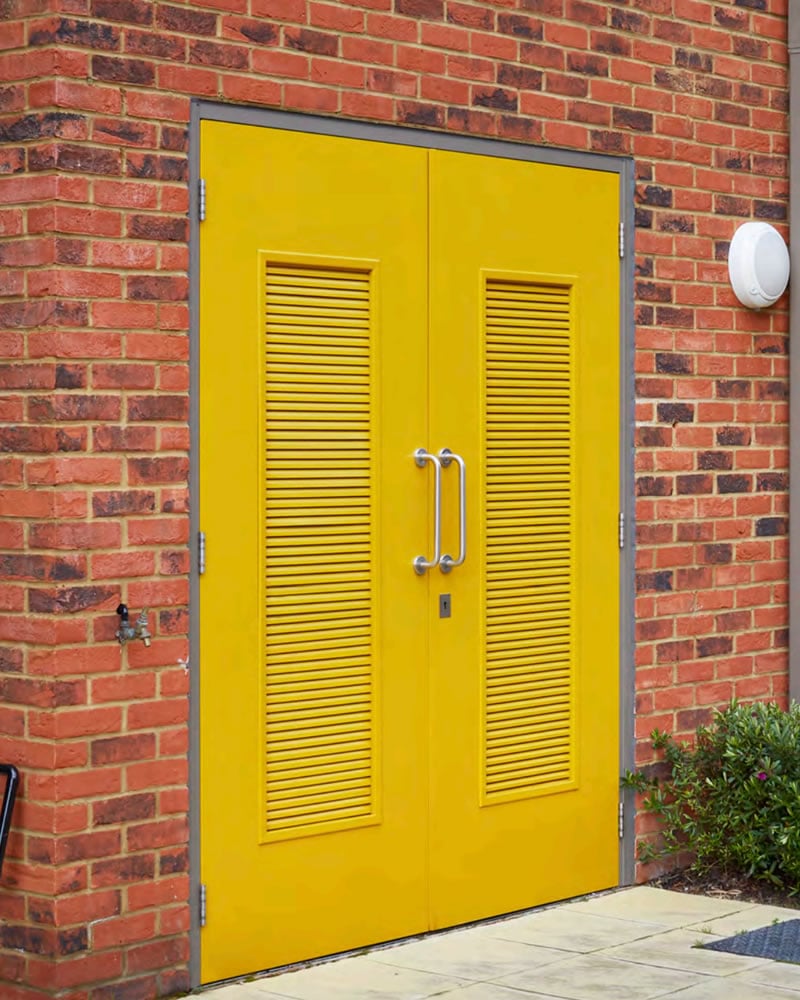 Steel Louvre Doors
Powder Coated Finish
Bespoke Sizes
Range of Colours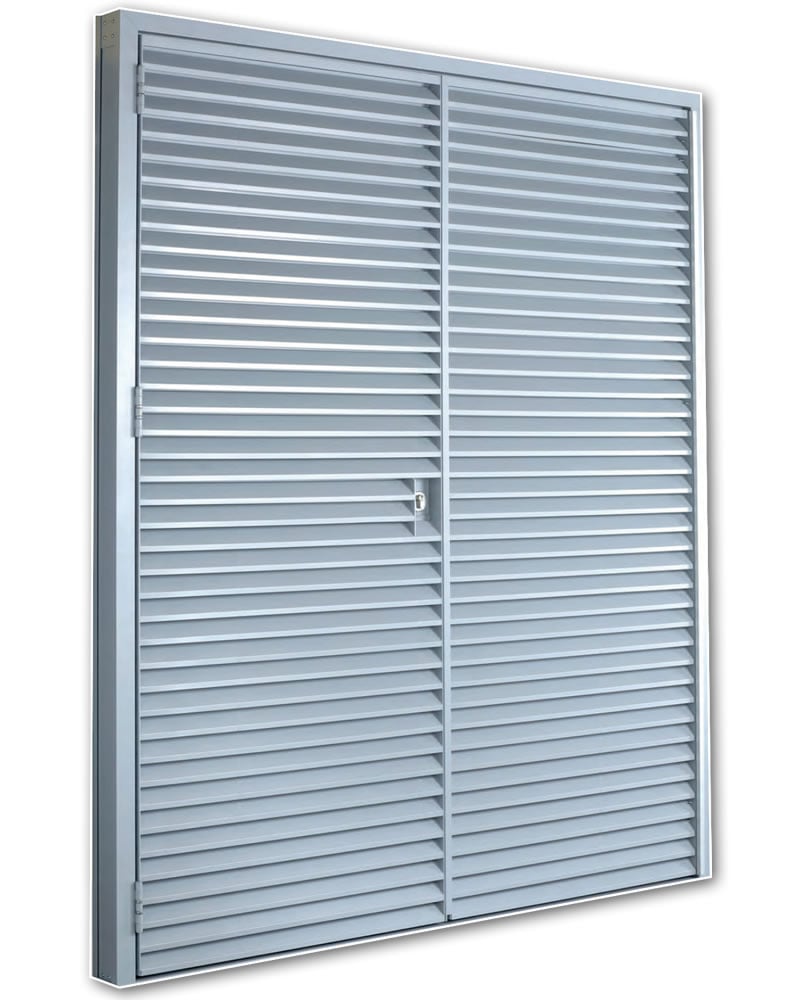 Aluminium Louvre Doors
Made to Measure
Bird Gaurd Mesh
Louvre Blade Pitch: 50mm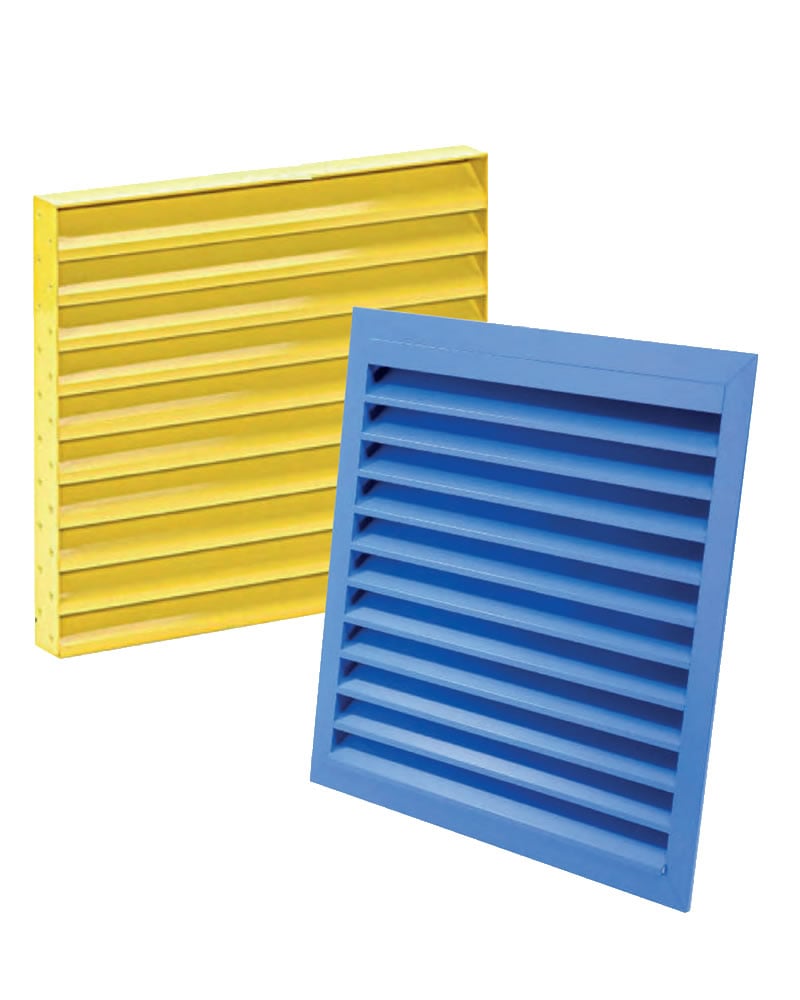 Louvre Panels
38, 50 or 75mm Depth
Bird or Insect Mesh
Custom Sizes & Colours
Add functionality with Louvre Doors
Louvre doors are incredibly versatile, stylish and perfect for providing superior airflow, security and performance in spaces that require permanent ventilation.
Offering excellent levels of privacy and security, external steel louvre doors and aluminium louvred doors can be found in a wide range of settings, including bin sheds, plant and boiler rooms, storage rooms, computer rooms, factories, machinery rooms, laundry rooms, bike stores, leisure facilities, and more.
Whether you're looking for acoustic louvre doors, slim louvre doors, metal louvred doors, closed louvre doors UK, or louvre swing doors, there are lots of different styles and designs available.
And, if you're looking to buy louvre doors for retail, public or commercial settings, you've certainly landed in the right place. As expert louvre door suppliers, we provide cheap louvre doors in steel and aluminium that are made to measure in the UK and built to stand the test of time.
What are the benefits of Louvre Doors?
There are a whole host of benefits that come hand in hand with having external louvre doors and internal louvre doors, including the following:
Incredibly versatile
Angled slats allow for optimum airflow and ventilation
Affordable
Available in any custom RAL colour
Perfect for commercial buildings
All steel and aluminium louvre doors are also made to measure, meaning a diverse range of louvre door sizes are available to accommodate your specific building requirements.
Aluminium Louvre Doors UK
Strong, durable, and incredibly versatile, aluminium louvre doors offer high air flow for excellent ventilation and are perfectly equipped to accommodate the needs of retail, public and commercial buildings.
Super economical, aluminium louvre doors not only provide a continuous flow of air but they also provide good rain defence and offer a high level of security.
Aluminium Louvre Specification
Standard outer box frame
Dimensions: 50mm x 100mm with hinge rebate
Door leaf depth: 74mm
Hinges: 3 no. 100 x 75mm ball
Bearing butt hinges
Louvre Blade pitch: 50mm
Lock case: 64mm euro profile
Cylinder: Euro cylinder, keyed
External, thumbturn internal.
Shoot bolts (double doors only)
Heavy duty brushed stainless steel
Bird guard mesh: Galvanised after
Manufactured to BS443.
Louvre side and top panel to match
Aluminium louvre doors and aluminium louvred plant room doors are made to size and built to last. To discuss your bespoke louvre doors UK specification, get in touch today!
Custom Louvred Doors
Any kind of commercial or residential building with a space that requires good ventilation is suitable for aluminium louvre doors. And, one of the main advantages of opting for bespoke louvre doors, is that they can be customised to accommodate your needs. This is because our louvre doors are made to size and available in a vast range of bespoke colours.
Aluminium louvres are available in a variety of blade pitches too.
Aluminium Louvre Door Prices
Aluminium louvre doors UK prices vary depending on your requirements. You can buy louvre doors online from ourselves and if you have any questions about our louvre doors, please do not hesitate to get in touch with a member of our team.
Not quite what you're looking for? Remember, there are lots of louvre door alternatives available too!
Steel Louvre Doors
Steel louvre doors are strong, durable and provide optimum security and ventilation in environments where airflow is imperative.
Designed to protect and ventilate without compromising on functionality, our high performance louvre doors are perfect for a range of public, commercial and retail outlets, where security and ventilation are of the utmost importance.
Manufactured from galvanised steel, external louvre doors UK are also often found in plant and boiler rooms, computer rooms, store rooms, manufacturing and leisure facilities.
Specification
Frame: corrosion resistant 18GA galvanised steel
Louvre blades 22GA galvanised steel
Bird and insect mesh available
50% free air flow in standard configuration
36% with insect mesh
Full louvre aluminium door sets on request
Supplied inclusive of a powder coated finish in a standard colour
Full range of RAL and BS colours available including
Metallics and pearlescent
Side, over panels and walls
Louvred side and over panels are available, including removable and hinged solutions.
Louvre door panel standard sizes:
305 x 305mm | 305 x 1524mm | 457 x 457mm 457 x 762mm | 457 x 1524mm | 610 x 610mm 610 x 914mm | 610 x 1524mm | 508 x 508mm 610 x 457mm
Louvre Doors Made To Measure
All of our high-quality custom made louvre doors are made to measure, so they fit your property perfectly, whether you're on the hunt for fixed louvre doors, open louvre doors, or french louvre doors, there's a catalogue of different options available.
If you're looking for the perfect made to measure louvre doors , we have you more than covered.
Coloured Louvre Doors
Louvre doors come in lots of different colours, meaning you can complement and enhance the aesthetic appeal of your building.
From cheap white louvre doors through to black and green louvre doors, you will find that commercial louvre doors not only come in lots of different sizes but also colours too. White louvre doors are always a popular option and we have a great selection of closed louvre doors white.
Door louvre grilles are also available in different colour ways too. Get in touch to discuss your closed louvre doors and open louvre doors UK requirements today.
Security Louvred Doors
In any commercial, leisure, retail or hospitality setting, it's important that security is never compromised. Boasting industry leading locking systems and designed to offer optimum protection and ventilation, security louvre doors are always a great option.
All of our doors with louvres offer optimum security that you can always rely on.
Where to buy Louvre Doors?
Cheap louvre doors UK are available to buy right here online and all louvre doors are made to order in line with your bespoke needs.
What are Louvre panels in the UK?
Louvre panels are commonly used for screening purposes and are carefully selected to suit the airflow and water repellency requirements of a vast range of different projects and buildings.
Clipped and supported off a range of aluminium support profiles, louvre panels are selected to suit the sizes and shape of the opening and can incorporate single and double doors. Whether you're looking for louvre panels ventilation, louvre panel and bin storage kits, aluminium louvre panels or metal louvre panels, we can help.
As a trusted panel and louvre company, we specialise in providing steel louvre panels and aluminium louvre panels which can be used for a wide range of purposes.
What type of other Louvre panels can you purchase?
As well as steel and fixed aluminium louvre panels and outdoor louvre panels, you can also purchase the following types of Louvre panels:
Acoustic Louvre Panels Balcony Louvre Panels Louvre Cladding Panels Louvre Panel Kits Fixed Louvre Panels External Louvre Panels Louvred Wall Panel Louvred Panels & Bins Louvre Panel Door
All louvre wall panels, external louvre panels, louvre screen panels and fixed louvre panels are expertly designed to meet all performance specifications.
Get in touch today!
If you require further information about our products or prices, please get in touch with a member of our team today. We're always on hand to help you find the best options for your property.
We are a supply only business, however do work with trusted installers. You can find out more on our Local Independent Trusted Installers page.
Alternatively, you can contact us on 01435 515001 or email us at sales@justvaluedoors.co.uk
With each and every door we offer: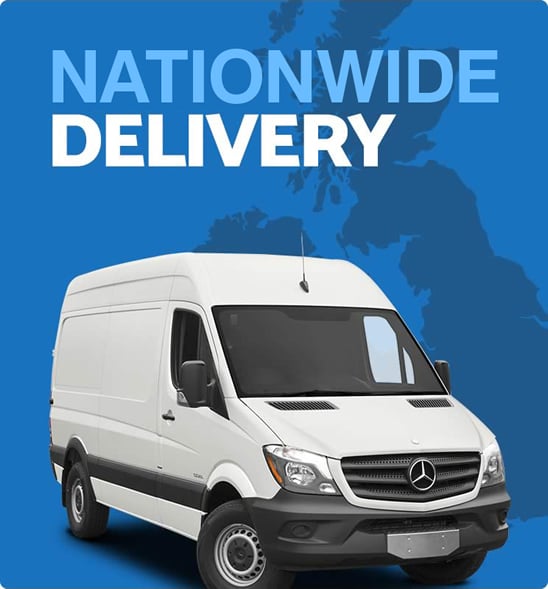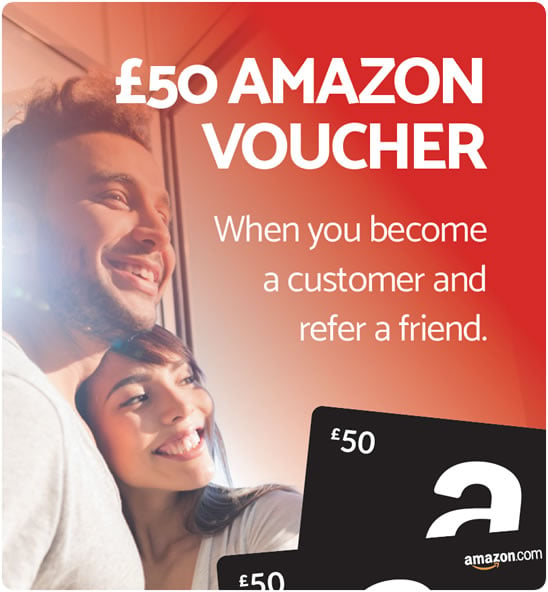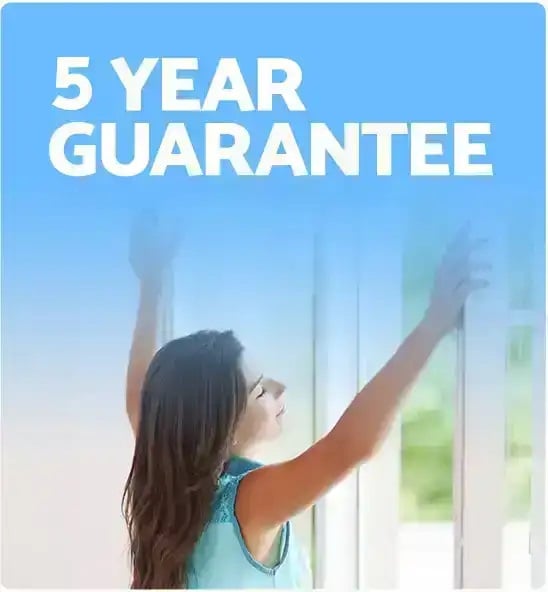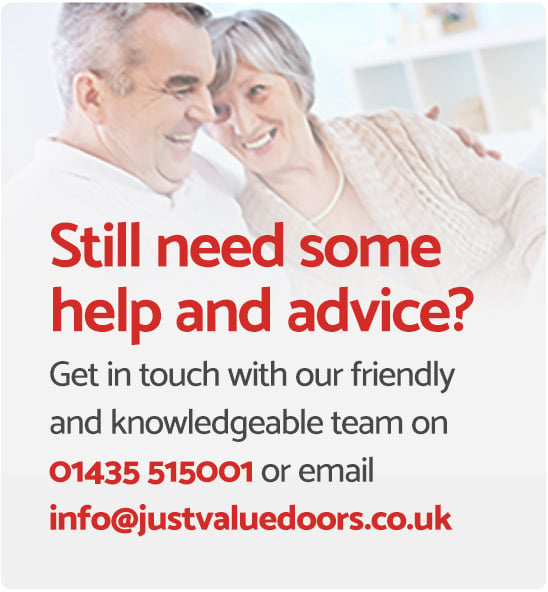 Still have questions?
Below you can find the most common questions answered, but if you still cant find what you looking for - we've put together a dedicated FAQ page where you can search out your answers, and if you still need help simply get in touch with our friendly team.
Quality seems very good.
Bought a composite door side panel windows and 2 separate windows. Great comms product price competitive and quality seems very good.
Superb customer services!
Quality of composite door is good. Superb customer services! was particularly helpful, extremely accomadatimg to my amendments that were my mistake. Would definatly recommend!