Progress
Cottage Sunburst Composite Stable Door
Delivery is free of charge and usually within just 2 weeks. We also offer a nationwide survey and fitting service.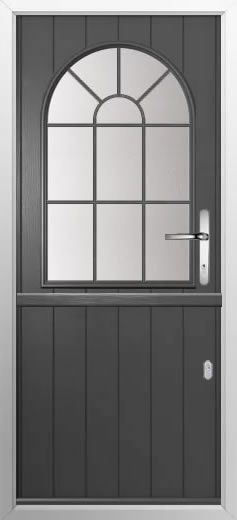 Cottage Sunburst - Composite Stable Door
With its traditional cottage feel, glazed window panels, and arched focal point in the upper segment, this Composite Cottage Sunburst Stable Door is functional, stylish, and perfectly equipped to meet the demands of busy family life.
Allowing you to open the top segment whilst leaving the bottom closed, or open both segments as a single door, this versatile composite stable door is ideal for families with small children and pets, as you will always be able to keep them safe and sound!
Made to measure sizes
Open in or out / hinged left or right
Hung in a reinforced Upvc frame
Available in a variety of different colours
Secured by design with a multi point locking system
Highly resilient to scuffs and scratches
Full survey and fitting available
Compliant with part L of the building regulation
10 year insurance backed guarantee