Delivery is free of charge and usually within just 3 weeks. We also offer a nationwide survey and fitting service.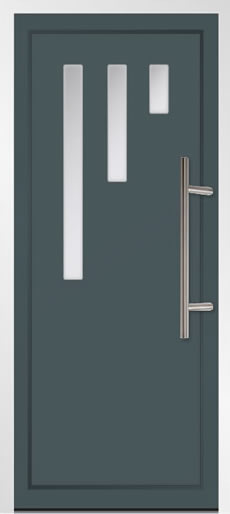 Aluminium Front Door | Neoslope
Featuring three slender glass panels hanging like icicles from the top of the door, this aluminium door has a truly contemporary feel – making it perfect for homes with a modern look.
As well as allowing in a generous amount of natural light, this aluminium door is also extremely durable and secure, so you can rest assured that your home will be kept safe at all times.
Contemporary profile design
Available in custom colours
Made to measure
Open in or out / hinged left or right
Robust, durable and style conscious
10 year insurance backed guarantee
Full survey and fitting available
Thermally efficient product